Second British Airways Flight From Phoenix To London Begins Next Week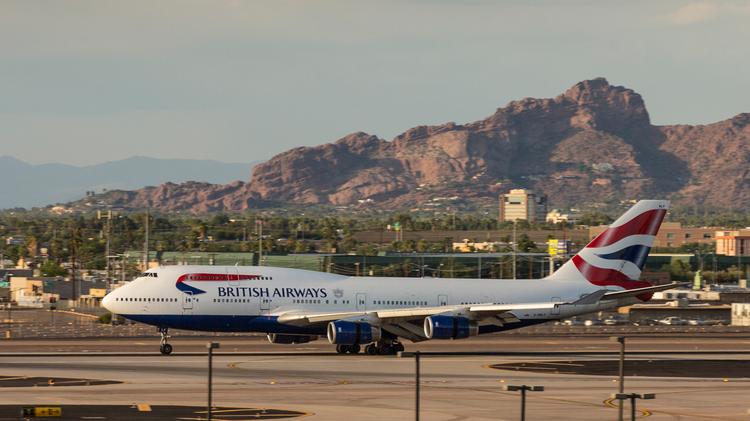 Phoenix Sky Harbor International Airport's second London flight begins next week.
The additional British Airways flight will begin service May 8 until June, flying three days a week, where the flight on the British Airways 747-400 aircraft will take off each day around 2:35 p.m.
Phoenix, which has tried — not always successfully — to add international locations to Sky Harbor's lists of destinations, believe the second London flight will have a big impact.
"The current daily flight by British Airways adds $100 million to our economy each year, so this new flight is a welcome addition to that impact and another sign of the strength of our growing market," said Phoenix Mayor Greg Stanton.
Officials cited the fact that Sky Harbor has 120 people per day flying to London, and 80 of those are on the British Airways flight. London is the top international destination of those on that flight, though many others connect to destinations in the United Kingdom, Europe and Africa.
There was a surge of new international flights throughout the state during 2016. Tucson International Airport reinstated international service for the first time since 2008 with multiple flights to Mexico; Phoenix-Mesa Gateway Airportscheduled its first international service with two airlines offering flights to Alberta, Canada; and Sky Harbor recently boosted its service to Vancouver from seasonal to year-round.
However, one of the airlines that planned to offer flights from Mesa canceled them before even one takeoff, citing cost undercutting by a competing airline.
Phoenix has taken steps to create more international flight opportunities. According to a release from Sky Harbor, Stanton met with an Asian airline earlier in 2015 in an attempt to attract flights to Sky Harbor.
The city council also approved an incentive program to get more international flights, targeting eight specific destinations, including Montreal, Quebec, Canada, which Air Canada announced it would offer to Sky Harbor on a seasonal basis yesterday.
The problem is Phoenix is stuck between two airports — Los Angeles and Dallas/Fort Worth — that promise more in terms of profit to airlines, whether domestic or international.
Sky Harbor has invested billions of dollars in new infrastructure, including an extension of the Sky Train, a new concourse at Terminal 4 and a remodeled Terminal 3, in an attempt to stay competitive.
Despite growth city officials promise will boost what they call the city's largest economic engine, it has put a damper on passenger traffic. Sky Harbor's 2016 passenger count is the worst performing among the nation's 10 busiest airports and one of just two declines among the top 10, according to the Arizona Republic.
The airport also dropped in J.D. Power's airport ranking, possibly because of the impeding construction of infrastructure upgrades.
Steven covers retail, restaurants, hospitality/tourism as well as aviation, small business and nonprofits.